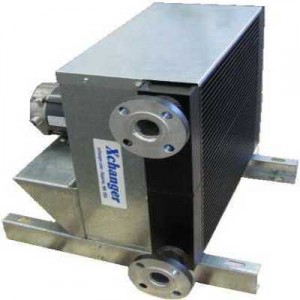 OC Series heat exchangers are designed specifically for cooling lubricating oil and heat transfer fluids with ambient air. Use our interactive online form to get a fast and accurate quote!
Common Applications
Cooling lubricating oil for industrial equipment and gas compression skids, cooling heat transfer oil, and cooling process glycol or water as a clean alternative to smaller cooling towers.
Features
The OC Series exchangers feature a TEFC 230/460 VAC, 3 phase motor, a heavy-duty cooling fan, and an OSHA approved fan guard. Process liquid connections can be NPT, SAE 4-bolt hydraulic flanges, or ANSI flanges.
Plate-Fin Core Construction
The aluminum plate-fin heat exchanger core is furnace brazed with alternating finned flow channels. Hydraulic oil and forced draft ambient air flow across the heat exchanger in alternating horizontal channels. The process stream enters and exits through rectangular aluminum headers, which are welded to the core.
Performance
Xchanger engineers use a computer model to analyze heat exchanger performance based on the best available engineering practice. A database with fan performance data allows us to select the best fan for the application.
Models
OC-16 & OC-22
Special Configurations
Can be found on our Custom Designs page.
Industrial hydraulic oil heat exchanger (lube oil cooler) isometric drawing and typical configurations:

Sample data sheet: