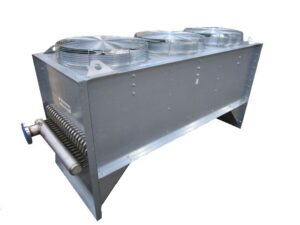 LC Series heat exchangers are designed specifically for cooling liquids or high pressure air with ambient air. Use our interactive online form to get a fast and accurate quote!
Common Applications
Cooling process glycol or water as a clean alternative to smaller cooling towers, cooling compressed air, and condensing chemicals from high pressure gas mixtures.
Features
The LC Series exchangers feature a TEFC 230/460 VAC, 3 phase motor, a heavy-duty cooling fan, and an OSHA approved fan guard.
Fin-Tube Core Construction
The fins are rectangular plates with a matrix of die-extruded tube collars. A sheet metal casing provides rigidity to the fin-tube assembly prior to tube expansion. After assembly, the tubes are expanded into the fin collars, giving a gap-free connection, maximizing heat exchanger performance and structural integrity.
Operational Considerations
Typical tube materials are: copper-nickel, carbon steel, type 304 stainless steel and type 316 stainless steel. These units are particularly suited to applications with high operating temperatures or corrosive fluids. Units can be optionally supplied with cleanable tubes.
Performance
Xchanger engineers use a computer model to analyze heat exchanger performance based on the best available engineering practice. A database with fan performance data allows us to select the best fan for the application.
Models
LC-12, LC-18, LC-20, LC-24, LC-30, LC-36, LC-40, LC-42, LC-46, LC-48, LC-54, LC-60 & LC-66.
Special Configurations
Can be see on our Custom Designs page.

Sample data sheet: